Calendar of Events
The VFW Post 392 Calendar of Events provides for our members a sequential view of monthly scheduled events that are usually included in the our newsletter. Please visit the Newsletter page for additional information. Click the links below to view the respective calendar page.
Please scroll down the page to see the list of upcoming and recent past Post events.
Changes are posted as they occur - sometimes daily.
If you are seeing an older version of the page, please hit F5 on your keyboard or reload on your mobile devices to refresh the page.

Please note that effective February 1st, 2017, this prohibition will include vaping.
Post 392 Calendar for the month of March, 2018
(Click link to open calendar)
PLEASE NOTE THAT THERE IS A LOT OF INFORMATION THAT HAS BEEN ADDED BELOW.
PLEASE ENSURE YOU SCROLL DOWN AND READ ABOUT ALL THE EVENTS HAPPENING THIS MONTH!
Our next Post and Auxiliary Business Meetings will be held on Tuesday, March 6th, 2018, @1900 Hours.
All members are encouraged to attend! Make your voice heard and help us improve our Post!
The American Holidays Calendar
| | |
| --- | --- |
| Click each link below to open the Calendar for that month. | VFW Post 392 Twitter Feed |
Calendar for the month of March, 2018

Tweets by @VFWPost392
Calendar for the month of February, 2018

Calendar for the month of January, 2018

Calendar for the month of December, 2017

Calendar for the month of November, 2017

Calendar for the month of October, 2017

Calendar for the month of September, 2016

Calendar for the month of August, 2017

Calendar for the month of July, 2017

Calendar for the month of June, 2017

Calendar for the month of May, 2016

Calendar for the month of April, 2017

Calendar for the month of March, 2017
THIS IS OUR POST.
What have you done to help our Post and our Veterans lately?
We always need volunteers to help with events, and members to patronize the Canteen. To those who repeatedly assist with Post functions, we thank you all. For those that seldom visit or assist, we cannot stress enough that we need more members to participate in Post activities and events. Please join us at these wonderful events, including not only the special events each month, but patronizing and supporting your Post Canteen. Whether for Breakfast, Lunch, Dinner, Friday Night Live Entertainment, Picnics, Holidays, weekend or other sporting events, we're always open for all our members and their families and guests. Don't forget, the large and small meeting rooms are also available to rent for special events! We can only support others if we support ourselves first.
Please support your Post through volunteering your time! We can certainly use all the support we can get. Every hour spent and mile driven benefits our vets and counts towards our annual reporting, so make sure that you're documenting any time spent supporting Post or Veteran activities.
RACING AT POST 392
The Monster Energy NASCAR season continues in March with races in Las Vegas, Phoenix, Fontana CA, and Martinsville. Each race is shown on the big screens at the Post, so come join us as we watch the racing, wrecking, and drama that unfolds in each event. There's still time to join our NASCAR Fantasy League, so if you're interested in playing, please sign up at the Post. Please join us as we enjoy the games/races, camaraderie, and great food and drink.
On Sunday race days, the Post 392 Kitchen is open with a limited menu and beverages available. Remember, improved Wi-Fi is available at the Post, so if you want to bring your tablet, laptop, or other wireless device to track race stats live (or entertain the kids), please feel free to do so. Connect to VFW392-1 5G for the best signal. The password is available at the canteen. You can call or visit the Post for further information.
COOTIE SUNDAY BREAKFAST SCHEDULE
NOTE - THE SCHEDULE IS CHANGING
The members of the Military Order of the Cootie Pup Tent 9
Cootie Breakfasts are being cut back to twice a each month. In March, breakfast will be offered on March 11th and 25th.
The cost remains $8.00 for Adults and kids 13-17, $3.00 for kids 6-12, and Free for Kids 5 and under. We are in need of volunteers for all Teams. The updated 2018 schedule is available in the
Post Newsletter.
***DINING AT POST 392***
Post 392 Canteen



Looking for a sandwich, wings, or a light snack? Lunch is available both for eat-in and to go.
You can call ahead if you're in a hurry (757-486-5875)!
Lunch hours are Monday - Friday, 1100-1300.
Come see us, have some great food and refreshing beverages, hang out with fellow members, and support your Post! Your patronage is not only needed but very much appreciated. See the Newsletter, any Post Officer, the designated Point of Contact, or the Canteen Manager for details. Sign-Up sheets for the various events are at the Post.





Special Note:

Our Thursday Night Dinners are

all volunteer staff

. If you'd like to help with serving, cleanup, or dishwashing - please
contact the Canteen Manager Shelley Hughes,

or the

Assistant
Canteen Manager Tina Brown at (757) 486-5875.
Also, if you'd like to Guest Chef in the upcoming months, please
just let us know!
The full rundown of all the offerings can be found in the Post Newsletter.

NOTE: On rare occasions, event dates and/or times can change. Check back often for the latest info!
UPCOMING SPECIAL DATES
01 MAR, THURSDAY NIGHT DINNER - Lasagna & Chicken Alfredo - $7.50

02 MAR, 1800, Steamed Shrimp and Friday Night Live Entertainment - TBD - Apps only 2100-2200

03 MAR

, District 2 Meeting VFW Post 8545 Smithfield - Lunch 12:00 Meeting 1:00 P.M.

04 MAR, NO COOTIE BREAKFAST - SEE NEWSLETTER FOR NEW SCHEDULE

05 MAR, 1830, Post and AUX Officer Staff Meeting, All Officers and Committee Chairs should attend.

06 MAR, POST and AUXILIARY MEETINGS, 1900 HOURS - ALL MEMBERS ENCOURAGED TO ATTEND. Nominations for the 2018-2019 slate of officers will be opened.

09 MAR, 1800, Steamed Shrimp and Friday Night Live Entertainment - DJ Billy - Apps only 2100-2200

10 MAR, 1300 - MOCA BINGO - see the flyer below

11 MAR, 0200 - DAYLIGHT SAVING TIME CHANGE - SPRING AHEAD 1 HOUR

11 MAR, 0830-1100, COOTIE BREAKFAST WITH TEAM #1 SERVING!! ADULTS & KIDS OVER 12, $8.00, KIDS 6-12, $3.00, KIDS 5 AND UNDER, FREE. VOLUNTEERS NEEDED FOR ALL TEAMS.

13 MAR, 1900, MOC/MOCA PUP TENT 9 Monthly Meeting - All Cooties requested to attend.

15 MAR, 1700-1900, THURSDAY DINNER - CORNED BEEF AND CABBAGE - $7.50

16 MAR, 1800, Steamed Shrimp and Friday Night Live Entertainment - DJ Shannon - Apps only 2100-2200

17 MAR, 0900, OCEAN VIEW ST. PATRICK'S DAY PARADE - SEE NEWSLETTER FOR DETAILS - COME JOIN US AS WE MARCH!!

18 MAR, NO COOTIE BREAKFAST - SEE NEWSLETTER FOR NEW SCHEDULE

19 MAR, 1700, Junior Vice Commander in Chief, William "Doc" Schmitz, visits Post 392 for Dinner

23 MAR, 1800, Steamed Shrimp and Friday Night Live Entertainment - TBD - Apps only 2100-2200

25 MAR, 0830-1100, COOTIE BREAKFAST WITH TEAM #3 SERVING!! ADULTS & KIDS OVER 12, $8.00, KIDS 6-12, $3.00, KIDS 5 AND UNDER, FREE. VOLUNTEERS NEEDED FOR ALL TEAMS.

28 MAR, 1900, HOUSE COMMITTEE MEETING - ALL COMMITTEE MEMBERS SHOULD ATTEND

29 MAR, NO THURSDAY NIGHT DINNER

30 MAR - GOOD FRIDAY. NO ENTERTAINMENT OR SHRIMP SPECIAL.

31 MAR, 1800, TEXAS HOLD'EM TOURNEY - SEE BELOW FOR FLYER

Coming in April - Community Service Awards, April 11th, 1900 hours.

Remember to check back often as the Calendar is subject to change without notice.
Calendar / Newsletter Corrections
We welcome any comments, suggestions, or complaints about errors that warrant correction. They can be directed to any Post 392 Officer, or you can e-mail them to webmaster@VFW392.org and
trtmet312@outlook.com
. Corrected copies of the calendar are published as they are received.
Below are the upcoming Post and external events on our schedule. Some of the images have links to external websites or information, so please click on each one for further information. Unless it is specifically stated that a below event is a VFW 392 event, we do not assume any responsibility for the content, scheduling, or other control over said events.
‡‡‡‡‡‡‡‡‡‡‡‡‡‡‡‡‡‡‡‡‡‡‡‡‡‡‡‡

‡‡‡‡‡‡‡‡‡‡‡‡‡‡‡‡‡

‡‡‡‡‡‡‡‡‡‡‡‡‡‡‡‡‡‡‡‡‡‡‡‡‡‡‡‡‡‡‡
UPCOMING EVENTS
THURSDAY NIGHT DINNERS
HAVE CHANGED TO THE FIRST AND THIRD THURSDAY OF THE MONTH
Twice a month, Dinner will be prepared by a volunteer chef.
Dinner is now served from 1700-1830.
The schedule for March is as follows:

MAR 1st
Lasagna & Chicken Alfredo
Prepared by Bob DeChamplain
$7.50
MAR 15th
Corned Beef and Cabbage
Prepared by Post Volunteers
$7.50

THE KITCHEN WILL BE OPEN ON FRIDAYS WITH A VARIETY OF OFFERINGS, INCLUDING OUR STEAMED SHRIMP SPECIAL FROM 1800-2000. PIZZA IS AVAILABLE. PLEASE CONTINUE TO JOIN US AND ENJOY THE OFFERINGS.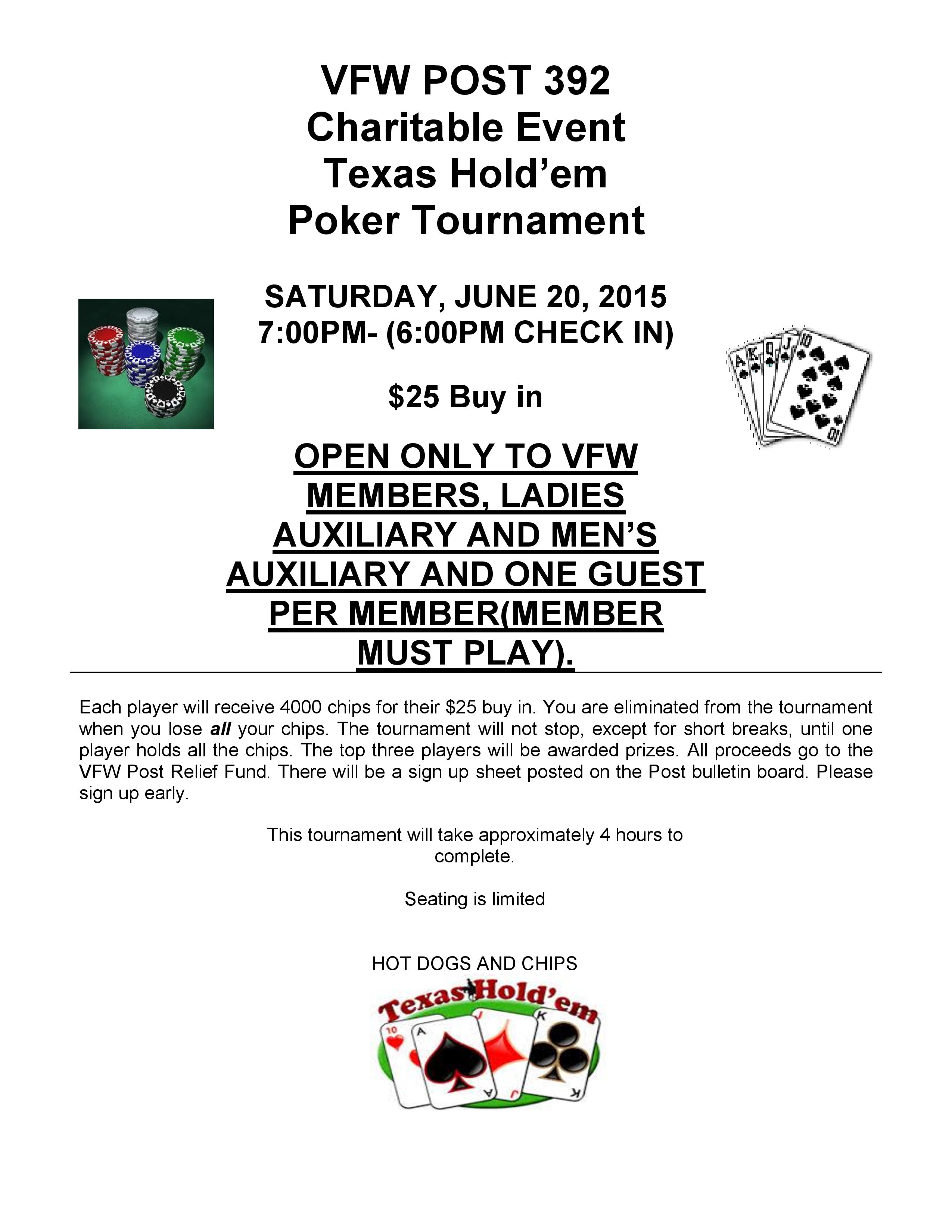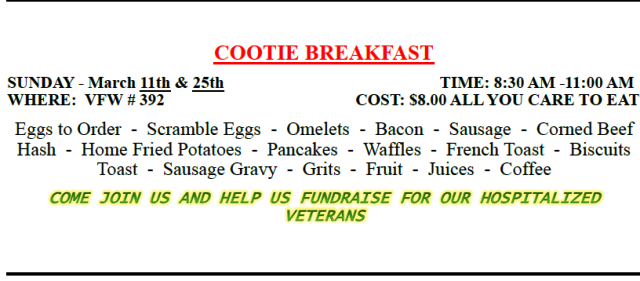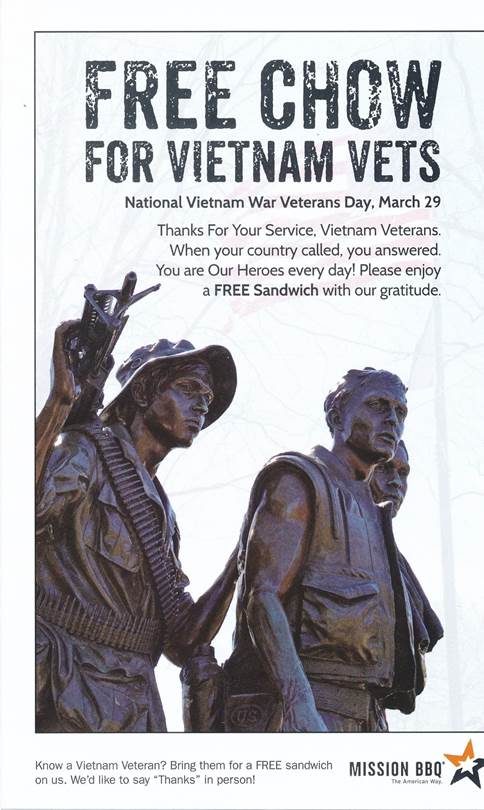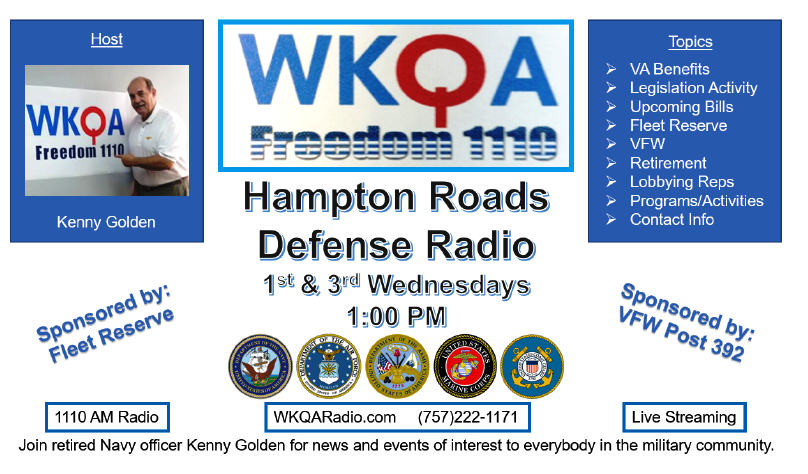 *-*-*-*-*-*-*-*-*-*-*-*-*-*-*-*-*-*-*-*-*-*-*-*-*-*-*-*-*-*-*-*-*-*-*-*-*-*-*-*-*-*-*-*-*-*-*-*-*-*-*-*-*

PAST EVENTS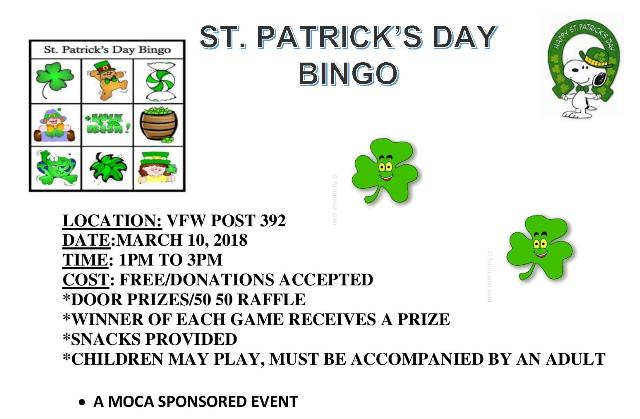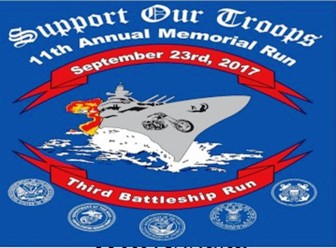 11th Annual Memorial Run
September 23rd, 2017

Post 392 held our 11th Annual Memorial Run … a Poker Run with a twist. Instead of competing for best / worst poker hands, 129 participants played a game of 'battleship' with most hits / least hits awards.


ALL PROCEEDS benefit St. Jude's Children's Research Hospital (50%) and Post 392 Veterans Assistance Programs (50%) in memory of George Myers.


This years stops included VFW Post 392 (Virginia Beach), Monks Place (Pungo), VFW Post 3160 (Norfolk), VFW Post 4809 (Norfolk), and Bucketheads (Virginia Beach). Thank you all that participated, all the volunteers that supported the day's events, and Mission BBQ Virginia Beach for their donation of lunch for us all. It was great!! We hope to see you all again next year!!

SHOP WITH A VET
December 17th, 2016, 9:00 AM
NAS Oceana Exchange

Post 392 held our 7th annual "Shop with a Veteran" on December 17th. Sometimes our military families fall on hard times. We've all been there. And around the holidays, it's that much more distressing.
This outstanding program offers some holiday assistance by providing selected families in such situations, a chance to still bring a Christmas smile on their children's faces.

Our Post, in partnership with the Association of Naval Aviation, was able to give seven local Military families an opportunity to meet us at the NAS Oceana's Navy Exchange and purchase their own Christmas gifts. Each child was allotted a designated amount and the shoppers were accompanied by a Post 392 or ANA member. As always, we had a great time, and the hugs and thanks were plenty!

Here's a few photos from the event. Click on each to enlarge.

ANNUAL VFW POST 392 CHILDREN'S
CHRISTMAS PARTY & SANTA'S WORKSHOP


DECEMBER 18th, 2016, 1300-1500

The annual Post 392 Children's Christmas Party and Santa's Workshop was held at Post 392, on Sunday, December 18th, from 1-3 PM. The Children and Grandchildren of Post members that are age 12 and under were invited to attend. The big guy in the red suit brought gifts for all the attendees, who were also able to visit Santa's Workshop, where the children were able to pick gifts for their parents. This was a very fun party and a great time was had by all! Here's a few photos from the party. Click on each to enlarge.
16th ANNUAL TOMMY SCHRYVER
MEMORIAL GOLF TOURNAMENT
September 17th, 2016
VFW Post 392's 16th Annual Tommy Schryver Memorial Golf Tournament, was held on Saturday, September 17th, 2016, at the NAS Oceana Aero Pines Golf Course. We are awaiting the final announcement on winners and other results. Check back soon!
RELAY FOR LIFE
June 4th, 2016
Good afternoon Mike,
Saturday June 4, 2016 Salem High School, Virginia Beach, Virginia was the date and site of the Annual Community-Wide American Cancer Society Relay for Life. The attached photo, which appears in the Virginian Pilot Online, only shows a portion of the VFW-392 members who led the first lap, the official opening of this fundraising event. Not photographed were Mark Winn and David Goldstein. The Flag Bearer was Mike "Breeze" Barea, VFW-392 Team Captain and to his left VFW Life Member and Prospective VFW-392 Post Commander Steve Graves. It was estimated that over 3,000 people participated. 160 Teams were registered and to date over $241,000 have been collected. Our very own "Bad" Steve Graves served as Master of Ceremonies. VFW-392 surpassed its donation goal of $6,000 placing itself in the Top Ten of Teams collection efforts. To date VFW-392 has raised $6,260 (UPDATE - A FINAL DONATION OF $740.00 was received on 6/7, pushing the total raised to $7000.00!!). Combined with last year's total of $5,300 VFW-392 has raised over $11,500 in the fight against cancer. THANK YOU and WELL DONE to all those who contributed. To our small group of participants, who joined us in walking around the track, THANK YOU for your above and beyond efforts, especially Mark Winn who walked nearly 13 miles for the cause!
Nearly everyone has been touched by cancer, either through their own personal battle or through the battle of someone they know and love, and this disease has taken too much from too many. Our participating in the Relay For Life event is because we know we are making a difference in the fight to end cancer by raising funds and cancer awareness. A Relay For Life event is not only a way to join our community to fight back against cancer, but it is also a way to inspire hope by raising funds and cancer awareness to help those facing a diagnosis.
By walking in a Relay For Life event we, VFW-392, joined more than four million global volunteers who are dedicated to finishing the fight against cancer. This was our (VFW 392) opportunity to honor the cancer survivors in our lives, remember friends and family we have lost, and to raise funds to support the American Cancer Society's lifesaving mission.
Please join me and my teammates in thanking those who made generous donations, some from Norfolk Post #4809, in support of our collective efforts. Please add a special thank you to our Post's Auxiliary assisting in our campsite set up complete with food and drinks. Thank you!
Together, we WILL finish the fight against Cancer!
Very Respectfully,
Mike Barea (breeze)
VFW-392 Team Captain
Mike Barea, Life Member, VFW Post 392

American Cancer Society

Virginia Beach Relay For Life
Community Champion
(757) 647-6876


Barea_michael@bah.com
VFW "Buddy"® POPPY DINNER & FUND RAISING WEEKEND

The VFW "Buddy"® Poppy weekend has come and gone again. The spaghetti dinner by Bob DeChamplain was great! Thank you to all the volunteers that participated in this most important fund raising project. We will announce the results of the weekend at our June 6th business meeting.


HONOR FLIGHT HISTORIC TRIANGLE VA MISSION #15

APRIL 23, 2016

Honor Flight Historic Triangle Virginia Mission 15 was an amazing success.

For full coverage and photos, please visit our Newsletter page by clicking here.

Vets from the VA Hospital visit Post 392
April 2nd

From Post 392 Auxiliary President Colleen Lewis: Our guests from the Hampton VA had such a wonderful time! I want to thank all of our volunteers; Dept. Cmdr. Doug Keller, Cmdr. Doug Iles, Bob DeChamplain for his delicious spaghetti and fixing's, Sherry and Anne for desserts, John P., John B., Nuvia, Hip, Dinah, and Lorain for the set up, clean up, serving, and friendship towards our Veterans. And a special shout out to DJ Weiss who kept us dancing! Thank you 1000 times! You guys rock!
2016 VFW Post 392 Community Awards
On March 23rd, we presented the annual Post 392 Community Awards winners with their certificates and other prizes. For full information on this event, including winners and photos, please visit the Community Service page of this website by clicking here.
49th Annual Ocean View Saint Patrick's Day Parade
March 19th
One of our annual traditions is that Post 392 Marches in the Ocean View Saint Patrick's Day Parade. We Marched approximately 1.5 miles to the reviewing stand on First View at Government Avenue. It was a bit cold and rained a little but as always, we have a blast during the parade. A huge shout out to the members of the VFW Auxiliary, who support us in all we do and had a really fun day! Here's a few photos from the parade.
US Patriot Sailing "Meet and Greet" on 23 February at 1830
In preparation for the 2016 sailing season, US Patriot Sailing held a "Meet and Greet" for potential Patriot Sailors in Hampton Roads
Agenda:
Attendees were provided with an overview of US Patriot Sailing organization, mission and review the known schedule for 2016.
Anyone desiring to race regularly starting April at Little Creek or Willoughby can sign up; those wishing to only race off-shore can also sign up; as those that wish to race less frequently.
Who is eligible to participate:
Combat Veterans, Wounded Veterans, and Gold Star Family members interested in competitive Sailing. No sailing experience necessary.
Non-combat Veterans and Active Duty Personnel interested in participating in US Patriot Sailing (Note: Combat Veterans and Gold Star Family members are our Priority)
Other personnel interested in supporting or racing, as available.
US Patriot Sponsors are welcome.
Note: There is no cost to Veterans or Gold Star Families to participate in US Patriot Sailing Events
Please forward this information to anyone you think might be interested in participating in Patriot Sailing.
Background:
US Patriot Sailing, is a 501(C)(3) non-profit
http://www.uspatriotsailing.org/home.html
US Patriot Sailing Mission:
Harness our nation's Heroes' endless drive and determination. U.S. Patriot Sailing competes at the highest level of amateur sport, and helps our Heroes navigate a healthful journey by:
• Reuniting Heroes to train and accomplish team missions.
• Re-inspiring Veterans to see beyond their injuries and perform to their full potential.
• Reintegrating Warriors to the home front through teamwork, camaraderie and accomplishment.
Programs:
For the 2016 racing season in Hampton Roads, our crews have the opportunity to train and compete together on a weekly basis over the course of a six month long sailing season. During the off-season our community remains connected through training seminars and various group events.
We are recruiting Combat Veterans from every generation and service for our 2016 sailing season. Non-combat Veterans and Active Duty are welcome to augment crews, but Wounded Warriors and Combat Veterans are our priority.
No sailing experience is required and there is no cost to Veterans to participate in our sailing events. Our crews include a mix of experienced sailors, as safety is our first priority.
2015 was our first year of racing. We trained 27 Patriot Sailors for over 30 races, including a crew that competed in an offshore race from Charleston, SC to Annapolis, MD.
The 2016 season has already kicked off with two Patriot Sailors competing in the FT Lauderdale to Key West Race, and a crew first place in the New Year's Day Race out of Norfolk, VA.
Our goal for the 2016 season is to increase Veteran involvement to 40-60 Patriot Sailors and compete in 75 race starts between Hampton Roads, Annapolis and various offshore races.
Point of Contact:
E. Randy Goodman
Captain, U.S. Navy, Retired
U.S. Patriot Sailing, Board of Directors
757-348-7921 (cell)
*-*-*-*-*-*-*-*-*-*-*-*-*-*-*-*-*-*-*-*-*-*-*-*-*-*-*-*-*-*-*-*-*-*-*-*-*-*-*-*-*-*-*-*-*-*-*-*-*-*-*-*-*-*-*-*-*-*-*-*

2015 PAST EVENTS
ANGEL TREE/CHRISTMAS GIFT BASKETS
Thank you all for your Donations!!
We wanted to take a moment to thank each and every giving person that took the time to donate for the Christmas Gift Baskets, Angel Tree, or both. You unselfish kindness has brightened the holidays for those less fortunate. Thank you for your support!
Post Christmas Party
On Saturday, December 5th, Post 392 held our annual Christmas Party. We had a very good turnout, great food thanks to our own Denise Moran, and wonderful music from our DJ. A special thanks to the members of VFA-213, the "Black Lions", who took the time out of their days and evenings to help with setup, serving, and cleanup. We are truly grateful to have you as part of our Post family!
CHILDREN'S CHRISTMAS PARTY &
SANTA'S WORKSHOP
On December 20th, the elves were busy as we held our annual Children's Christmas Party! The kids had a blast, creating cards, picking out presents, and seeing the big guy in the red and white suit. Thanks to all who participated and made this a great day for our children!
Christmas Dinner
On Friday, December 25th, Post 392 served a traditional Christmas Dinner in the Main Meeting Room. The food was great, and everyone that partook had a wonderful meal and social day. Thanks again to all who provided donations to support this meal, those who cooked, served, and cleaned up afterwards, and especially, those who chose to spend a fun day at the Post!
Shop With A Vet at NAS Oceana NEX
On Saturday, December 19th, members of VFW Post 392 and our Auxiliary, accompanied by a group of Association of Naval Aviators (ANA), met with children of veteran and active duty families as we held our annual Shop With A Vet outing at the Oceana Naval Exchange. The kids were delighted as they were able to shop for presents that would otherwise not have been available to them this Christmas. The happiness and joy this day was able to be achieved through the selfless financial support of both the VFW and the ANA. Thank you to all that participated and brought cheer to these military and veteran families.
15th Annual Tommy Schryver Golf Tournament
The 15th Annual Golf Classic in memory of Tommy Schryver was held on October 17th at NAS Oceana's Aeropines Golf Course. This year was the 15th year of this event, which serves as both a memorial celebration of an outstanding serviceman and community leader, as well as a fund raising event in support of our local veteran community. All proceeds derived from this tournament are directed entirely towards assisting our local veterans, both in the local community and also those that are hospitalized.
To view photos of the tourney, please visit our 2015 Tourney Photo Gallery
.
Here are the results of the tournament:
Awards
1st Place
2nd Place
Last Place
Bob DeChamplain
David Johnson
Dinah Devins
Chris Dahl
Steve Wilson
Lorraine Crain
John Halmrast
Mike Jordana
Anne Kennedy
Andrew Halmrast
Jimmy Carter
Dan Kennedy
Longest Drives

Men - Duane Gordon
Women - Maureen Evans
Seniors - Kenny Golden
Par 3's Closest to the Pin
Special Awards Trophies
3 - Jeremy Barnes
Straightest Drive to Line
Closest to the Line
on a Line Drive
8 - David Langille
David Langille
David Langille
12 - Mike Jordana
Closest to the Pin on All Par 3's
16 - Dan Kennedy
Mike Jordana
Thank you to all who participated and helped to make this what was described as a "fantastic day". A special thanks to Ed Evans, Dinah Devins, Duane Gordon, and Ingrid Epperson for their planning and orchestration of this wonderful tournament. Great job by you all!
10th Annual Poker/2nd Annual Battleship Run
Click here to open the photo page for this event.
As part of our efforts to recruit new members, we set up our Recruiting Tent during the NAS Oceana Air Show. Thanks to those volunteers who manned the recruiting tent on the weekend of Sept 19th-20th. Here's a few photos from the event (Click on photo to enlarge):
Recruiting at the NAS Oceana Air Show
As part of our efforts to recruit new members, we set up our Recruiting Tent during the NAS Oceana Air Show. Thanks to those volunteers who manned the recruiting tent on the weekend of Sept 19th-20th.
Here's a few photos from the event (Click on photo to enlarge):
Annual Post Picnic
The Annual VFW Post 392 Picnic was held on Sunday, September 6th, 2015, from Noon until 5:00 p.m. As always, the Picnic was a great success. We thank all the volunteers who spent many hours setting up, manning booths, cooking, cleaning up, and ensuring our membership and their families and guests had a great time. Bravo Zulu!
Patriot's/Remembrance Day
On Friday, September 11th, in recognition of Patriot's Day and in remembrance of 9/11/2001. There will be a Colors Ceremony at Post 392, beginning at 0745hours. Show time for the event is 0745. Please come out and pay your respects to all we remember that day.
RELAY FOR LIFE
Words cannot express the gratitude and appreciation I have for all of the VFW-392 volunteers who assisted and participated over this past weekend's Relay for Life Event held at Salem High School, Virginia Beach 6-7 June 2015. VFW-392 raised over $5300 ($2500-Goal), that's double what our goal was set out to be. I'm hopeful to add to our donation totals by selling the remainder of 2015 JEEP WRANGLER 4 Door SUV Raffle Tickets. Raffle Tickets are $10 apiece. Overall, we had 29 volunteers come out and brought food and drinks, assisted in camp site set-up, breakdown and walk the many laps, over an 18 hour period, needed to raise funds and cancer awareness. The overall event raised over $272,000. It appears many who stopped by and visited our campsite, viewed our participation favorably and are looking forward to next year's 2016 Relay for Life, Virginia Beach. It was a great VFW recruiting opportunity. Once again, thanks to ALL!
Sincerely,
Mike Barea (Breeze / GIB)

Check this page for more info:
http://RelayForLife.org/VirginiaBeachVA
Captain Mike "Breeze" Barea US Navy (Retired)
"Buddy"® Poppies
May 22-25, 2015
A huge THANK YOU to all that braved the heat and participated in this weekend's "Buddy"® Poppy Fund Raising event. Initial tallies indicate we significantly surpassed last year's total, even though we were one day short on our schedule. The final tally will be presented at the June Business Meeting. Brave Zulu to all that planned and participated!
CARNIVAL DAY AT THE VA HOSPITAL
From Betz Girouard, Post 392 LAUX Hospital Committee Chair:
A great BIG 392 THANK YOU to VFA-213 Black Lions & Post member CMC Neil Siegfried for all their hard work and dedication to yesterday's Annual Hospital Carnival! We asked for a few sailors to help out - Neil brought 12! These returning heroes, fresh off of a 9 month deployment, made quick work of setting up our VFW 392 games booth (and running it too!) then disbursed throughout the Carnival grounds offering assistance to more than 50 other Veterans Groups there and the over 800 disabled Vet's in attendance - as well as helping Hospital staff with patient care. The Black Lions went above & beyond - while also showcasing our Post's continuous Volunteer Spirit and devotion to ALL Veterans!
Texas Hold'em Tournament
On Saturday, May 16th, Post 392 held our second Texas Hold'em Tournament. Those that participated had a great time. All proceeds were donated to the VFW Relief Fund.
2015-2016 Officer Installations
A joint VFW Post 392 and Post 392 Ladies Auxiliary Officer Installation Ceremony was held at 1800 hours, Saturday, 2 May 2015. Our slates of 2015-2016 Officers were sworn in at that time, in order that they may assume their offices in June. Photos of the event will be posted soon.
Texas Hold'em Tournament
On Saturday, April 11th, 2015, Post 392 held our first Texas Hold'em Tournament. Participation in this tourney was limited to active VFW, LAUX, and MAUX members. Those that participated had a great time. Prizes were awarded, and all proceeds were be donated to the VFW Relief Fund.
We need volunteers to assist with our Post events; please contact any Post Officer. "Our strength is in our volunteers"
Copyright © 2010-2017 Veterans of the Foreign Wars of the United States and Veterans of the Foreign Wars of the United States Post 392.
All rights reserved. Privacy Policy