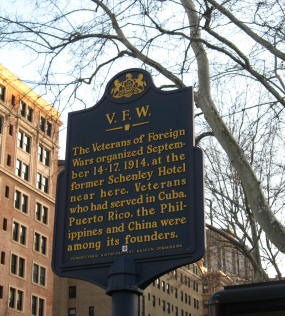 Mission
The VFW is an organization of war veterans committed to ensuring rights, remembering sacrifices, promoting patriotism, performing community services and advocating for a strong national defense.
Origin
The VFW was established September 29, 1899, when a small group of Spanish-America war veterans banded together to create one voice on behalf of all American veterans. Though the founders of this phenomenal organization are no longer with us, the strength and legacy they left behind has endured for the past 116 years.

In 1899 the American Veterans of Foreign Service (Columbus, OH) and the National Society of the Army of the Philippines (Denver, CO) were organized to secure rights and benefits for veterans of the Spanish-American War (1898) and the Philippines War (1899-1902). These two organizations merged in 1914, creating the Veterans of Foreign Wars of the United States. The VFW was chartered by Congress in 1936.
Organizational Structure
Thousands convene each August at VFW's national convention to elect officers, adopt resolutions and discuss business affairs. Leading the organization are the elected commander-in-chief, senior vice commander-in-chief, and junior vice commander-in-chief. The National Council of Administration serves as the VFW's board of directors.
More than 9,000 Posts comprise 54 Departments in the 50 United States, the District of Columbia, Latin America, the Pacific Areas, and Europe. Individual Posts form the basic local chapter, such as our post, VFW Post 392. We are a member of VFWVA District 2, and our current State Commander is a VFW Post 392 member.
Partner Organization
A national volunteer service organization, the Ladies Auxiliary of the VFW was founded in 1914 and is the backbone of many local VFW volunteer efforts. In 2005, the Ladies Auxiliary was officially renamed the VFW Auxiliary, allowing the membership of the many male spouses of our veteran membership. You can access the VFW National Auxiliary Page by clicking on their logo at the top of this page.
Current Priority Issues
The VFW's legislative initiatives center on quality of life and health initiatives for all the nation's veterans, past and present. The list below details the VFW's 2016 legislative priority goals.
You can also access our Priority Goals brochure in PDF format by clicking here.
Budget
- End budget sequestration.

- Adjust budget caps to reflect the growing demand on DOD and VA services.

- Provide sufficient funding for all VA budget accounts

Accountability

- Pass meaningful accountability legislation.

- Develop standardized staffing models and hiring practices throughout VA.

- Design Performance Measures that capture VA employees' quality of work not just quantity.
Health Care
- Expand timely access to direct VA health care through appropriate staffing models for each health care specialty, patient density thresholds for each VA medical facility, and a modular capital infrastructure that enables VA to adjust to changes in the veteran population.

- Reform and improve VA's Care in the Community process to ensure veterans have the choice to receive timely and seamless access to high-quality care in their communities when VA health care is not readily available. However, VA must remain the guarantor and coordinator of health care for all enrolled veterans.

- Consolidate all current non-VA care models into a single model.

- Modernize VA's scheduling system to ensure VA's scheduling process is seamless, veteran centric, and not susceptible to data manipulation.

- Expand the current caregiver benefits to those who care for severely injured, ill, and wounded veterans of all eras.

- Strengthen VA and DOD mental health programs to ensure service members and veterans who suffer from mental health conditions have access to robust mental health care services.

- Expand women's health care services to all VA medical centers to ensure the growing number of women veterans have access to gender-specific services.

- Authorize VA to receive reimbursement for non-service connected health care provided to Medicare beneficiaries.

- Ensure veterans who were exposed to toxic substances receive care and benefits for all associated health conditions.

- Properly fund homeless veterans programs to ensure the Administration is able to meet its goal of ending veterans' homelessness.

- Increase funding for VA research on the effects of Traumatic Brain Injury, how combat related injuries affect men and women veterans, and whether descendants of veterans who were exposed to toxic substances suffer from adverse health conditions associated with such exposures.
Compensation and Benefits
- Fully fund the Veterans Benefits Administration (VBA) so that they can sustain the necessary workforce and IT systems to ensure claims are completed in an accurate and timely manner.

- Hold VBA accountable for the backlog of all claims and appeals, not just the compensation and pension claims that they define as their "workload."

- Ensure that VA exercise its authority to accept private medical evidence when processing disability compensation claims.

- Provide veterans the option to receive more timely appeal decisions by instituting the Fully Developed Appeals initiative.

- Demand that VA reverse its current policy that prevents veterans from submitting informal claims for benefits.

- Insist that VA improve its notification letter so veterans can understand the evidence used in making their rating decision.
Transition Assistance
- Conduct discharge reviews for veterans who suffer from PTSD/TBI and who were discharged under Other Than Honorable conditions.

- Congress must properly fund homeless veterans programs to ensure VA can reach its goal of ending veteran homelessness.

- Improve vocational rehabilitation and employment by removing the 12-year delimiting period and tracking veterans' employment placement for at least 12 months post job placement.

- Ensure the Transition Assistance Program curricula meets the needs of service members and all veterans at all phases of the transition process.
Education and Employment
- Protect the integrity and future sustainability of veterans' education benefits.

- Invest in developing small business opportunities for veterans.

- Ensure service members receive civilian credentials or academic credit for the professional training they receive during service.

- Insist that the federal government meets its veteran hiring and contracting obligation.
Defense/Homeland Security
- Fully support U.S. troops and their mission to fight the war on terrorism, as well as to protect our nation's citizens and interests around the world.

- Halt the development and/or proliferation of weapons of mass destruction.

- Fully fund and deploy a U.S. missile defense system.

- Secure America's borders.
Military Quality of Life
- Ensure DOD maintains a quality and comprehensive benefits and retirement package that is the backbone to a quality all-volunteer force.

- Preserve the integrity of TRICARE to ensure service members and their families have timely access to high-quality health care.

- Protect service members' and their family members' on-base quality of life programs.

- Pass full concurrent receipt of military retirement pay and VA disability compensation.

- Eliminate the SBP/DIC offset for surviving military retiree spouses.
POW/MIA
- Achieve the fullest possible accounting of U.S. military personnel missing from all wars.

- Ensure Congress fully funds the POW/MIA Accounting mission.

- Insist the U.S. government keeps POW/MIA recovery a national priority.
Copyright © 2010-2019 Veterans of the Foreign Wars of the United States and Veterans of the Foreign Wars of the United States Post 392.
All rights reserved. Privacy Policy