MONTHLY NEWSLETTER
Dear Comrades,
It is our pleasure to present to you the latest edition of
RED,

WHITE,

AND

BLUE

, THREE NINETY TWO's Monthly Newsletter. The February 2016 Newsletter is now available. In it you will find messages from the Post Leadership, upcoming events, recent past events, birthdays, passings, and longevity awards. Please take the time to fully review the newsletter to see what YOUR VFW is doing for the community. Please scroll to the bottom of the page to get information our Virginia State VA Representative, Virginia Pauley, effective May 2015.
Virginia VFW Verification of Member Data Project Postcard January 2016
If you have received the below post card, it is part of an authorized data verification program currently underway by the Department of Virginia VFW HQ. This project is an effort to obtain the most up to date information for the VFW VA's database. All Comrades are requested to call Publishing Concepts (PCI), the duly authorized data aggregator, at the number provided on the card. You will need to provide your Personal ID from the rear of the card. Participation is voluntary but strenuously encouraged.
For more information, visit the project webpage at http://vfwva.org/home/pci-membership-directory-project/. Thank you for your participation.

VFW POST PRIDE TO SHOWCASE WORK OF VFW POSTS WORLDWIDE
Show how your Post is making an impact!
#VFWPostPride
KANSAS CITY, Mo. (November 19, 2015) – The VFW is pleased to introduce "VFW Post Pride," a new platform to showcase the dedicated support that VFW Posts, Auxiliaries and their members provide to veterans, service members, military families and to their communities.
For more than 116 years, VFW Posts have acted as the pillars of support to local communities worldwide. From coordinating welcome home celebrations and picnics, to building playgrounds and organizing clothing drives, VFW members take great pride in their work and VFW Post Pride will allow them to share it not only with the entire VFW community, but with the world.
Participation is simple! Capture a photo or video during your Post's next community service project, activity or troop support event, and share it to social media using the hash tag #VFWPostPride. Your content will then be displayed on the VFW national website alongside all other postings containing #VFWPostPride. See the page at: www.vfw.org/VFWPostPride.
In addition, VFW national staff will compile news stories, leads and submissions, also putting them on display here.
Not only is this a great way to show the world how the VFW continues to positively impact local communities, but it will also serve to provide ideas, success stories and collaboration opportunities to other Posts looking for ways to get involved or to implement new projects.
If you or your VFW Post are already active on social media, this is a great opportunity to engage with VFW members worldwide. For those without a social media account, VFW Post Pride provides a great incentive to take a step toward establishing an account and getting involved.
For guidance on establishing a Post, District or Department presence on social media, log in to the VFW website, and visit the Media and Public Relations link in the Training and Support section.
*****NEW "VFW A
UXILIARY"*****
As of August 21, 2015, the former Ladies Auxiliary is now known as the VFW Auxiliary! We are now accepting male family members into our Auxiliary. The requirements for membership are exactly the same as before. This is NOT a merger of the Men's Auxiliary with the former Ladies Auxiliary.
Male applicants that were a member of the Men's Auxiliary need to fill out the new member's application and show proof of eligibility.
Please contact the Post 392 Auxiliary Membership Chairman Tina Brown or Treasurer Ellen Stogsdill for further information.



Please refresh the page to ensure you're seeing the most recent version.

If you need assistance reading the newsletter, you can download the Adobe Newsletter Reader, which uses your computers voice software to "read" the newsletter to those with visual difficulties. Click the image below to be taken to the download page. Make sure to uncheck the optional offer if you don't want it before you click on Install Now.

Tweets by @VFWPost392
E-Newsletter & Updates
Would you like to have the latest newsletter delivered to your e-mail inbox? Sign up here for your free copy of the "VFW 392 Newsletter", which is sent out towards the end of each month. If you have not received any electronic correspondence from the Post and wish to do so, please sign up below.

Your name and/or e-mail address will not be shared with or sold to anyone else

.


The newsletter contains post updates, messages from the post leadership, special features, and news about important topics relevant to veterans and today's active-duty, Reserve and Guard members.

Important: If you do sign up or currently receive e-mail notifications from the post, please ensure you add webmaster@vfw392.org to your contact list to ensure the e-mails are not sent to your SPAM folder.

Please note that we are now accepting advertisements within our Newsletter.


NEWSLETTER ADVERTISING & PRICING

All ads are paid advertisements, and are not endorsed by the Veterans of Foreign Wars.
The prices are as follows:
Ad Size –
Price per Duration
Full Page – Monthly
$150.00
Full Page – Quarterly
$400.00
Full Page – Yearly
$1500.00
½ Page – Monthly
$75.00
½ Page – Quarterly
$135.00
½ Page – Yearly
$775.00
¼ Page – Monthly
$50.00
¼ Page – Quarterly
$135.00
¼ Page – Yearly
$450.00
Business Card – Monthly
$30.00
Business Card – Quarterly
$80.00
Business Card – Yearly
$275.00
Be Seen In Our Newsletter!


VFW Post 392 is offering advertising space within our newsletter. We have a monthly circulation of over 2100, and unlimited potential via this website.
All content must be submitted to and approved by the Post prior to the 15th of each month.

If you are interested in purchasing advertisement space within our newsletter, please contact
John Phillips, Post Quartermaster, at 486-5875 or via e-mail at post@vfw392.hrcoxmail.com.



VFW Post 392 On Facebook And Twitter

While the Post Newsletter is only updated monthly, regular updates about happenings at the Post are posted to both the

VFW Post 392

and VFW Post 392 Auxiliary pages on Facebook. Additionally, Post 392 can now be found on Twitter, at https://twitter.com/VFWPost392
To keep up with current events, click the appropriate page name above or the links on the left side or bottom of any page on this website and you will be taken to that page.
National Veterans News
VFW Annual Dues Increased
At the 2013 VFW National Convention, the voting membership approved a $10 annual renewal dues increase, which has gone into effect. All Annual Member renewals from this point on are at the increased rate.
Please note that now that annual memberships expire at the end of the month in which you join/renew, the Canteen staff is authorized to check member
ship cards to ensure they are current before the member will be allowed to partake in social events at the Post, including being served at the bar or signing in guests. As always, valid membership cards are required to attend Post meetings. If you are an annual member and have not yet renewed for 2015-2016, please renew now or consider purchasing a Life or Legacy Life membership and not ever having to worry about paying annual dues again!
Any questions, comments, or concerns can be addressed to Post 392 Commander Doug Iles, or Post Quartermaster John Phillips.

Potential Fraud Alert
The Department of Veterans Affairs has been notified of potential fraudulent attempts to contact Veterans using VetSuccess.gov. These individuals may be operating under company names such as Auto-Desk, Venus Remedies, or Aesculap Implant Systems. Be aware that these are potential fake inquiries, and you should not communicate with or send any information to these individuals.
If you are contacted by an individual or company that is requesting to communicate with you through a suspicious communication method, do not communicate with these individuals. If the individual or company has communicated with you through a suspicious email, do not click on any links in the email, and do not provide any personal information to the individual. If you suspect that you may be victim of these suspicious activities, please contact the VetSuccess.gov team at 202-461-9600.
Do not share any of the following information with these companies or any other suspicious party:
Social Security Number or other National Identification Number
Driver's License Number
Bank Account Information
Credit Card Information

Passwords

Date of Birth
Please be mindful of the information you share with individuals or a prospective employer until you are confident that the employer and employment opportunity are legitimate. If you suspect that you may be victim of fraud as a result of these suspicious activities, please contact the VetSuccess.gov team at 202-461-9600.
VetSuccess.gov continues to make every effort to prevent this type of abuse. If you have received a suspicious email, phone call, text, or fax, please report the activity to VetSuccess at vetsuccesstech.vbavaco@va.gov.
Curtis L. Coy
Deputy Under Secretary for Economic Opportunity
Veterans Benefits Administration
U.S. Department of Veterans Affairs
Time for Veterans of Gulf War I to Apply For VA Disability Benefits Extended
Veterans of the Persian Gulf War with undiagnosed illnesses have until December 31, 2016 to apply for VA disability benefits. Under the previous VA rule any undiagnosed illnesses used to establish eligibility for VA benefits had to become apparent by Dec. 31, 2011.
When announcing the change Secretary of Veterans Affairs Eric K. Shinseki said: "Not all the wounds of war are fully understood. When there is uncertainty about the connection between a medical problem and military service, Veterans are entitled to the benefit of the doubt." Veterans or survivors who believe that they may qualify for these benefits should contact VA at 1-800-827-1000.

Further information about undiagnosed illnesses is available online at:
www.publichealth.va.gov/exposures/gulfwar
and
www.publichealth.va.gov/exposures/oefoif/index.asp
Local and Regional Veterans News
The Virginia Department of Veterans Services has opened offices in Virginia Beach and Alexandria. The openings on Thursday increases to 22 the number of veterans benefits offices operated in Virginia by the state agency.
The offices are intended to assist veterans with their paperwork and tracking claims. Representatives will also assist them if they appeal a claim. In addition, veterans' affairs representatives can help with other issues, such as pension claims and veterans compensation.
The Beach office is in Pembroke II at the Pembroke Office Park, 287 Independence Blvd., Suite 130. For more information, call Virginia Pauley at (757) 552-1884.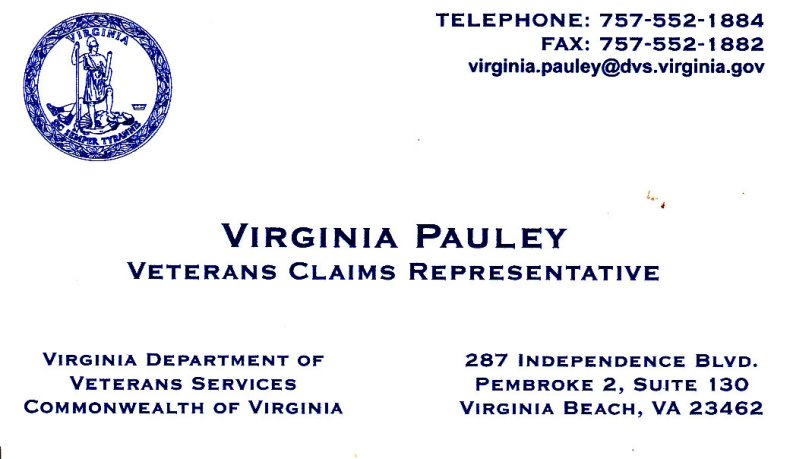 NOTE
:
VIRGINIA VETERANS AFFAIRS REPRESENTATIVE CHANGE - May 2015
Virginia Pauley is our local VA representative. We welcome Ms. Pauley and look forward to working with her concerning our local Veteran's affairs. She will be available at her office in Pembroke Bldg 2, 287 North Independence Blvd, Suite 130, Virginia Beach VA 23462, (757) 552-1884. You can also contact the Dept of VA concerning your VA questions and concerns at 1-800-827-1000.
Copyright © 2010-2016 Veterans of Foreign Wars of the United States. All rights reserved. Privacy Policy