Community Service Report Form
Individual Community Service Report
Reportable activities for Community Service: Volunteering for Red Cross, Meals on Wheels, Hospice, VA Hospital or any hospital, helping senior citizens, Suicide Hot Line, Battered Woman's Shelters, helping in our schools or churches are just a few of the many things that qualify as Community Service. If you volunteer your time and talents, if you walk for the Heart Fund, Cancer Fund, March of Dimes or do anything that is a service to our Community, or any other worthy cause, please fill out this form and return it to the post or email it to one of VFW Post 392 Officers. Turn in your volunteer hours, monetary donations and miles. Help the Post properly report our members Community Service Activities. Your assistance may also give our Post the opportunity to be considered for the "Excellence in Community Service Award." You may report events singularly or by each month by clicking on the Community Service Report Form link above, completing the form, and turning it in to the post, or sending it via e-mail to sr-vicecommander@vfw392.hrcoxmail.com.
CLICK HERE FOR THE APPLICATION FOR A CANCER GRANT
VFW Disaster Assistance Tops $680,000
VFW swiftly rose to assist service members and veterans affected by string of natural disasters
KANSAS CITY, Mo. (January 26, 2018) – The Veterans of Foreign Wars of the U.S. is proud to announce that its VFW Unmet Needs program provided a total of $684,000 in disaster assistance grants to help more than 2,050 military and veteran families recover from last year's string of natural disasters.
The relief funds aided more than 1,063 families after Hurricane Harvey, 925 families after Hurricanes Maria and Irma, and more than 40 families after the California wildfires.
In addition to the monetary support provided by the VFW national organization, many local VFW members quickly joined relief efforts in their own devastated communities. When members of VFW Post 4709 in Conroe, Texas, discovered their Red Cross couldn't reach several emergency shelters, they prepared and shipped out three meals a day for nearly 2,000 people.
Shortly after Hurricane Maria swept through Puerto Rico, VFW Post 754 Commander Gamalier Rosa departed his hometown of Shutesbury, Mass., for the storm-stricken island armed with Unmet Needs relief funds that purchased several generators to aid local veterans in cleanup efforts and to help restore some power.
Members of Puerto Rico VFW Post 12064 helped distribute water and nearly 1,000 meals to struggling veterans, as well as helped others with debris removal, to receive health care, find temporary housing, and by connecting them with the correct government agencies to help get them back on their feet faster.
"Too many veterans still don't have access to power or water," said Post 12064 Senior Vice Commander Jose Santos-Alvarez. "It doesn't matter who you are or where you come from, if we see you and you need help, we're going to help," he said of the Post's dedication in their neighborhoods and communities.
The VFW projects that by the end of its fiscal year, nearly 2,400 grants will be distributed, surpassing $786,000 in disaster aid.
The VFW's most recent assistance continues a long-standing commitment to supporting veterans, service members and their families in the wake of natural disasters. In 2012, the VFW provided more than $120,000 for Hurricane Sandy victims on the East Coast, distributed over $60,000 in 2013 for Moore, Okla., tornado and Colorado flood relief, and in 2016 provided $25,000 to Louisiana for flood relief.
"The VFW is extremely proud of the fact we can provide a lifeline for so many military and veteran families, especially during an already trying time in their lives," said VFW National Commander Keith Harman. "This program really showcases what we do, and have always done to support America's service members."
-vfw-
ABOUT THE VFW: The Veterans of Foreign Wars of the U.S. is the nation's largest and oldest major war veterans' organization. Founded in 1899 and chartered by Congress in 1936, the VFW is comprised entirely of eligible veterans and military service members from the active, Guard and Reserve forces. With nearly 1.7 million VFW and Auxiliary members located in nearly 6,400 Posts worldwide, the nonprofit veterans' service organization is proud to proclaim "NO ONE DOES MORE FOR VETERANS" than the VFW, which is dedicated to veterans' service, legislative advocacy, and military and community service programs. For more information or to join, visit our website at www.vfw.org.
JES Foundation Repair Honors Veterans Through American Flag Retirement Efforts
JES Promotes Respect & Etiquette for Worn, Torn American Flags.
----------------------------------------------------------------------------------------------------------------------
Virginia Beach, VA (Oct. 30, 2017) – In honor of Veterans Day, November 11, 2017, JES Foundation Repair delivered 45 worn and tattered American Flags to Veterans of Foreign War (VFW) Post 392 for proper retirement. JES accepts timeworn flags throughout the year and distributes them to Boy Scout troops and VFW posts that provide proper and respectful flag retirement programs. "Many people have old American flags and aren't sure what to do with them," Stella Waltz, Vice President and co-founder of JES said. "The JES offices throughout Virginia serve as a resource where people can hand over or drop off their old flags. It is gratifying to see and hear expressions of relief from people who have long flown their flags with pride."
VFW Post 392 Senior Vice Commander Teresa "TJ" DeChamplain was present to accept the flags. "We appreciate Stella and the JES team's efforts," TJ remarked. Retired from the United States Navy, she spent her career respecting the flag and honoring it in her work. "Many VFWs, Boy Scout troops and other organizations accept flags, so there are many places to retire Old Glory when it's time," she added.
Besides leading the flag retirement efforts at JES, Stella Waltz provides free, educational presentations on the history of and proper etiquette with the American flag. She has presented to schools, churches, civic organizations, corporations and retirement communities. For more information, contact Eric Lackey at 877-537-9675.
COMMUNITY AWARDS NIGHT 2017/u>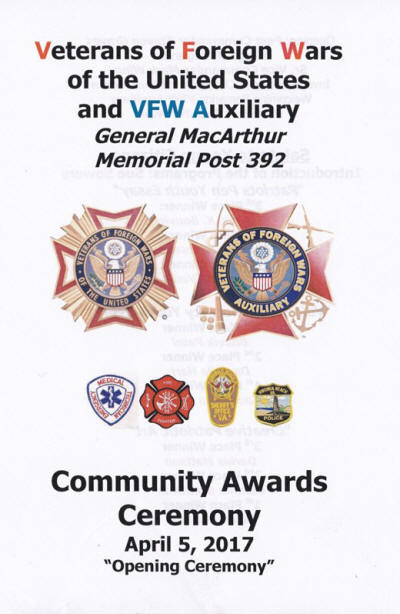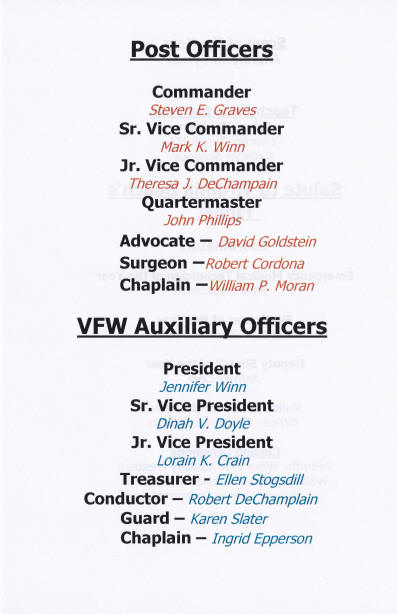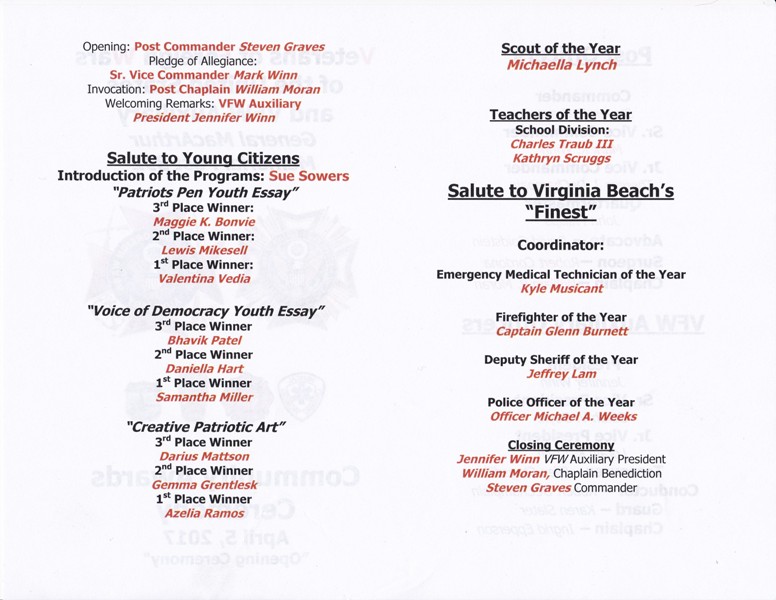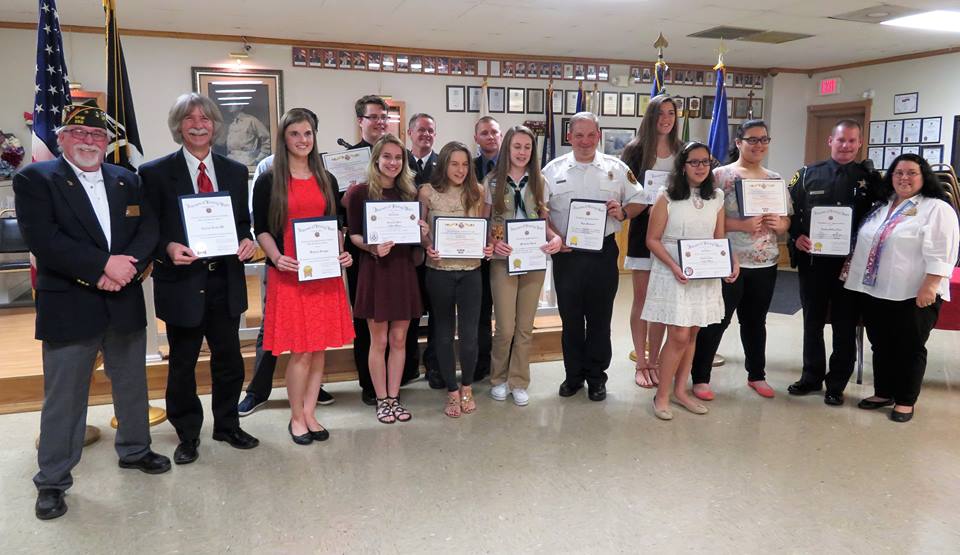 April 5, 2017, 7:00 pm was the Community Awards Night at Post 392 for all of the Scholarship Winners (Voice of Democracy and Patriot's Pen), Smart/Maher VFW Citizenship Education Teacher Awards, Scout of the Year Award, Young American Creative Patriotic Art Awards and for the Public Servants from the City of Virginia Beach.
This was an exciting night for all the winners, their families and friends. Holding these Award Nights lets the Post share with the community how proud we are of all the winners and their accomplishments.
The winners for Voice of Democracy are: 1st place, Samantha Miller, Ocean Lakes High School, 2nd place, Danielle Hart, Ocean Lakes High School, 3rd place, Bhavik Patel, Ocean Lakes High School.
The winners for Patriot's Pen are: 1st place, Valentina Vedia, St. John the Apostle School, (Valentina also won at District), 2nd place, Lewis Mikesell, St. John the Apostle School, 3rd place, Margaret Bonvie, St. John the Apostle School.
We had two teachers nominated for the Teacher Award. This award goes by grade levels and there can be a winner in the K thru 5 category, 6 thru 8 and 9 thru 12. Our winners are Kathryn Scruggs, Kindergarten teacher at Luxford Elementary School and Charles Traub, IV, from Cox High School where he teaches 9th and 11th grade World History and US History.
In the Scout of the Year Scholarship competition, our winner this year is Girl Scout Michaella Lynch. She earned her Scouting Gold Award by giving back to the community. Her project was designing and installing two lending libraries in the Baylake Pines neighborhood. Each library resembled a small tiki-hut, one for adults and another for children with the idea of taking a book for free and leaving another for someone else to enjoy. She also collaborated with more than 20 friends and neighbors in the painting of an under the sea-themed mural at the beach walkway entrance.
The Young American Creative Patriotic Art Awards winners are: 1st Place, Azelia Ramos; 2nd Place, Gemma Grentlesk; and 3rd Place, Darius Mattson.
We also recognized the following outstanding Community Public Safety award winners: Police Officer of the Year Michael A. Weeks, Emergency Medical Technician (EMT) of the Year, Kyle Musicant, Fire Fighter of the Year, Captain Glenn Burnett, and Deputy Sheriff of the Year, Jeffrey Lam.
Congratulations to all that were nominated, and especially to those who recieved awards!!
VFW National Firefighter of the Year Award - 2016
December 6th, 2016
(Click each thumbnail to view full size photo)
On Tuesday, December 6th, 2016, VFW Post 392 Commander had the distinct honor and privilege to present the VFW National Firefighter of the Year Award for 2016 to Capt Ray Irizarry (now retired), of the Virginia Beach Fire Department. Captain Irizarry distinguished himself by being selected out of all the local VFW Community Service award winners submitted from across the nation. This is a great and proud moment for both Capt Irizarry and Post 392. Please enjoy the photos of the award ceremony below.
2016 VFW Post 392 Community Awards
March 23rd, 2016
(Click each thumbnail to view full size photo)
Our apologies, photos from the 2015 awards are not available.
2014 VFW Post 392 Community Awards
March 12th, 2014
2013 VFW Post 392 Community Awards
March 20th, 2013
Copyright © 2010-2017 Veterans of the Foreign Wars of the United States and Veterans of the Foreign Wars of the United States Post 392.
All rights reserved. Privacy Policy